First order of the day was to vacate Hostel 1 and move to Hostel 2. We studied a bus schedule and boarded what seemed to be the appropriate bus. We informed the bus driver where we were going, in hopes that he would notify us when we were at the proper stop. Moments after we sat down, the bus driver pulled off the road and took a 10-minute smoking break. Chris and I were alone on the bus.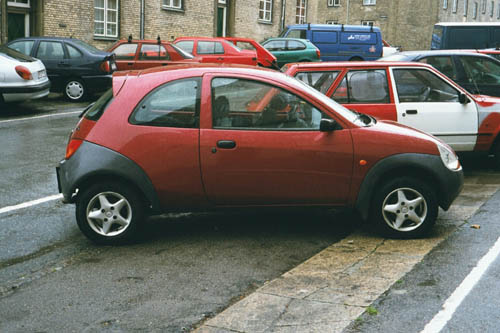 Ka, Copenhagen. I seriously think people would drive Kas if they were sold in the U.S.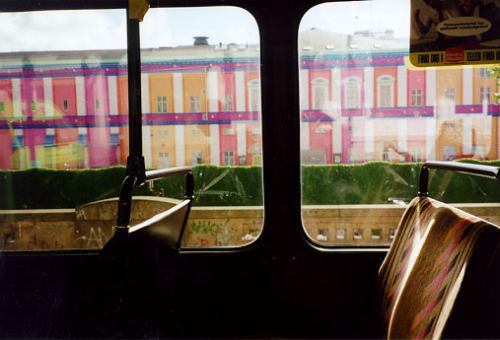 View out empty bus, Copenhagen. At least we got to look at this building while we waited.
Eventually the driver got back on board and started his route. And eventually, Chris realized that we seemed to be heading back to where we had come from. He went up to the driver and asked him if he'd passed the hostel. He had. Chris's face reddened. He asked him why he didn't tell us. I don't remember the exchange, but I suspect the driver did not understand English very well. He let us off and tried to be helpful, and we stood in what seemed to be the middle of nowhere for awhile, attempting to figure out a game plan, until we flagged down a bus whose driver understood what we wanted.
The final hostel was strange, and we weren't able to check in until 4. We sneakily planted our bags in a big closet that a group of kids from Asia were using (I could tell we weren't allowed to do this, and I'm not sure if Chris could tell, but I figured it'd work out as long as no one stole our stuff -- later, when we retrieved our bags, the hostel employee was confused, but didn't give us too hard of a time). Then we headed out.
We tried to visit the Carlsberg Brewery, got lost on the way, and then realized it was closed on Mondays. Then we decided to see the Little Mermaid. I took a photo of Chris standing next to her, then promptly dropped his camera. The battery jumped into the purse of a woman sitting in front of me. She was very nice. Chris made fun of me.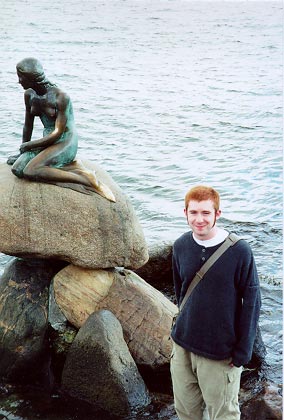 Little Mermaid , Copenhagen.
Next up was the "free city" of Christianna, which Liam had told us we had to see. It's essentially a hippie community fashioned from junk and graffiti. I mostly remember the dirt. Lots of people were trying to sell beaded jewelry. And if we'd wanted some, drugs would have been easy to come by.
Finally, we went shopping. I bought a tan corduroy jacket. Woo hoo.
Back at the hostel, Chris and I walked along the walking path that circled the place. Then I took a nap and he took another walk. The sun went down and I started to worry about him. I looked for him for awhile. Eventually we met up in the TV room, and soon after retired.