I remember waking up in Roskilde and dreading the long, fully uphill walk on the pebbly path to the train station. It turned out not to be so bad. The French girl from the night before somehow found us, and she talked to Chris as I pulled my bag hard up the path. I wanted it to seem like I was weighed down with luggage so I wouldn't get sucked into the conversation, because I didn't want the walk to take even longer.
The train ride to Copenhagen went quickly. When we reached the city, the main objective was to find our hostel. Personally, I was sick of hostels and was particularly peeved at the idea of having to switch to a new hostel for the second night in Copenhagen. I was willing to pay extra to stay in one of the many hotels in the heart of the city. It was the end of my vacation, I was crabby, and luxury was a welcome thought.
Of course, Chris wasn't into this idea, even when I told him that Mom would pay for it (which she later confirmed). He didn't want to default on the hostel reservation. Unfortunately, the travelbureau (which would normally help us out with directions) was closed on Sunday, except to book hotels. Other kids were loitering outside, and everyone was complaining and wondering what the problem was. Chris asked someone in a bank which bus we should take. When the bus arrived, we asked the very friendly driver to let us know when it was our stop. Once we got out of the bus, the driver stopped again to let us know we were walking the wrong way. He was a shining example of what a bus driver should be, and I salute him.
The girl behind the desk at the hostel was American. She asked us where we were from and lamented that no one she meets is ever from her home state (Michigan, I think?). We couldn't get into our rooms, so we stashed our bags in the lockers, and caught the bus back into the city. (Chris and I had a conversation about how "stashing" is the most appropriate term for leaving your bags somewhere for awhile, and how that word is not really used at any other time.)
I think this is when we stopped at Subway. Chris loves Subway. I ate some kind of sandwich, chicken I'm sure. Chris pooed in the bathroom there. The door didn't lock, so I had to keep an eye on it while I admired the use of Emigre's Base font in Subway's Danish placemat.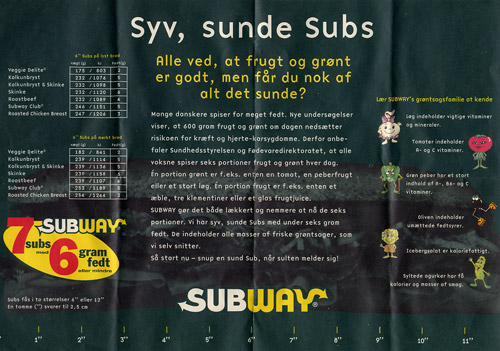 Placemat, Subway, Copenhagen. It uses Base font! One of my favorites, rarely seen (by me, anyway) outside of Emigre's publications.
Copenhagen is large and vibrant, and I don't feel like we had enough time to spend there. Unfortunately, it's also somewhat of a blur. I remember what we did, but not necessarily when we did it.
We went to an interesting but small museum that had recreated rooms from the royal (I think) family who had onced lived on the premises. Chris was annoyed that it was so small, and became more annoyed when his answer to "That's it?" was returned with a curt "yes" from the imposing doorman.
The highlight of the day was the planetarium, which is probably the shoddiest planetarium ever. It was a planetarium that had interactive features that would have been cool in the 1980s but are out of date today. Chris and I garnered more than our share of amusement watching metal balls spiral down into the "black hole" repeatedly as we waited for the Imax movie to start. We could have had a drink at the bar (yes, the bar), but we wanted to hold on to our dough.
The Imax movie was about caves. It was narrated by Liam Neeson, but we had to wear special headphones to listen to Liam. Of course, the sound somehow became extremely disjointed from the film itself about 15 minutes in, so we were constantly working to marry the sound we were hearing now with the images we saw 20 seconds ago. It was a challenge. But it would have been cool if everyone else had to wear the headphones instead. I mean, after all... the film was originally in English.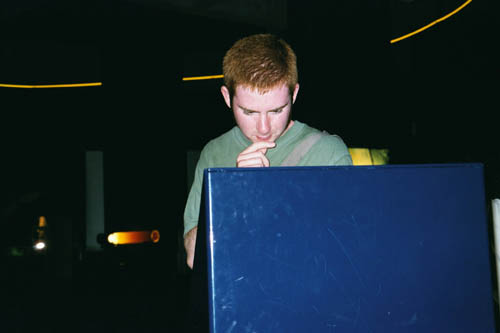 Planetarium, Copenhagen. Chris pretends to be interested in an exhibit about the moon.

After the planetarium, we ate. I think this was the day that we heard a band outside of KFC covering Guns 'N' Roses. We called Mom and she thought we were drunk, but we weren't: we just got a kick out of this band.
That night, we went to Tivoli, the amusement park. We drank in a tiny atmospheric little bar and then inaugurated the bumper car game. The rules of the bumper car game are this:
When standing in line, pick a target.
Work with your teammate(s) to hit that target as many times as possible without the target catching on to you.
Laugh hysterically.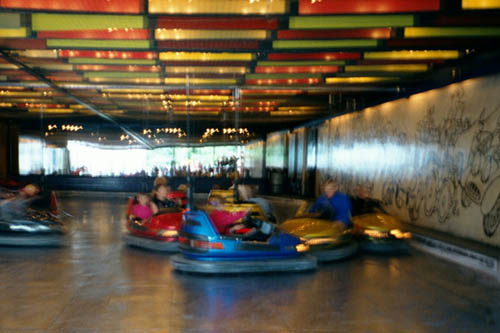 Bumper Cars, Tivoli, Copenhagen. This photo is from the next day, when we of course returned for more bumper car fun, but it seemed more fitting here.
At the end of the night, we returned to our hostel and watched a program that followed some cop around a ritzy area outside of Los Angeles (I think?). He was making some appallingly insensitive remarks about people of other races whom he treated like friends when they were on camera with him. Ugh.