Chris/I ate breakfast. He revealed that he has fallen in love over the internet with a girl who lives in Chicago. I crunched down on my corn flakes and nodded in empathy.
Before Legoland opened, we hit the convenience store, then walked through the campgrounds at the hostel. At the store, I found a postcard for the hostel that apparently tries to use sex and the hidden playground area from 2 different angles (we couldn't find it anywhere on the grounds). It was a really nice hostel, so it's weird that they didn't show the dormitories... or the Bouncy Cushion... or anything that would make the place seem appealing.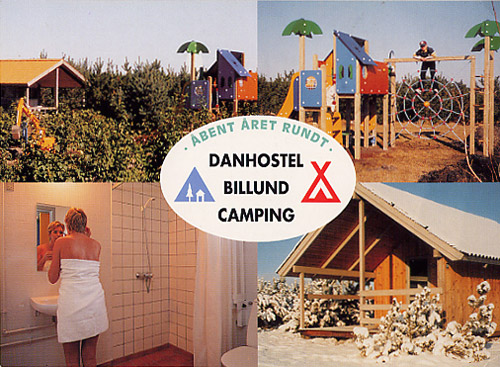 Postcard, Billund. What were they thinking?
We were among the first people that day to arrive at Legoland, so we rode some rides before anyone else. Rides there are good, but short. Saw many impressive Lego creations. Pirate Legos, Wild West Legos, Medieval Legos. The Wild West Legos were speaking at us in Danish, which Chris and I found amusing. Fortunately, all the signs there were in German, Danish and English. And park employees spoke English. Highlight: getting caught in chainlinked portion of jungle gym thing.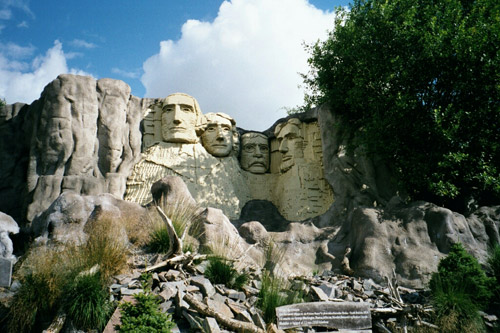 Legoland, Billund.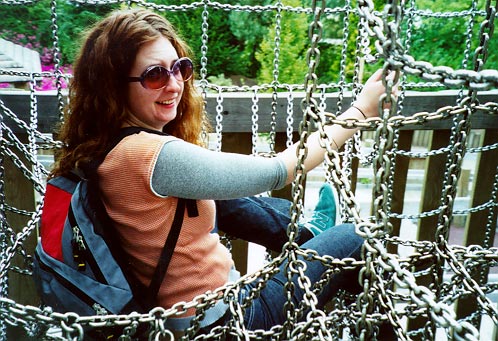 Legoland. I got caught in this chained part of a playground. It took a while to escape. [From Chris's camera.]
Also ate very good pizza at restaurant called Pizza/Pasta. Later, accidentally called Canadian girl American. She was talking, and I looked at Chris and said, "Wow, Americans." She said, "Actually, we're Canadians." Chris apologized to her for me and told me they hate being called Americans. Oops.
Post-Legoland, we left the hostel to catch the bus back to Veijle (where the train station was). Then we took the train to Odense. Odense is pretty, and the kids there seem fashionable. It also has some cool LED stoplights.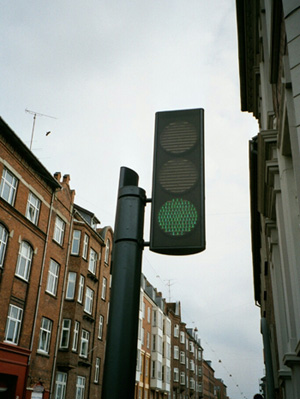 LED Stoplight, Odense. Attractive and efficient. Also, they turn red and yellow before turning green, as kind of a signal to take your foot off the break. Does it improve traffic flow, or does it contribute to accidents? We saw many near-accidents on the streets of Denmark.

Odense | 2001.08.01
We took a bus, supposedly to our hotel, but we didn't know when to exit it. So we got off early and walked about 2 miles with bags in tow, up hot, uncrowded roads through the countryside. It felt good to arrive at the hotel, even if we had to walk through a bar and kitchen and back alley to get to our somewhat creepy but clean, cheap room. We ate an expensive but generally tasty dinner. I drank local cola called Jolly, which was pretty tasty. Then we went to bed.
Later, I took photos of the hotel so as to recreate the famed Billund Hostel postcard. We were going to do this for every place we stayed. Yeah.

[ed. note: reviewing this on July 14, 2003, I realize that I did not at all capture the strange setting-out-of-a-horror movie aspect of this place. I also failed to note how incredibly good it felt to finally find it after walking so long with all our stuff, how nice it was to watch Danish news in the tiny bar before bed while sipping on a Jolly.]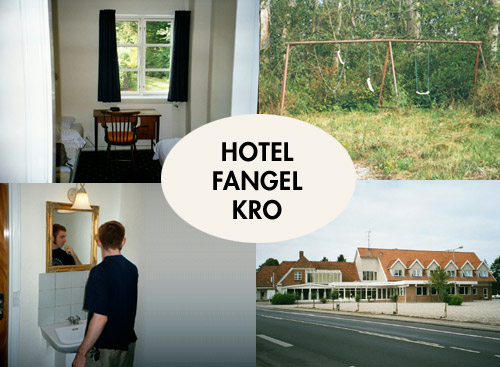 "Postcard," Fangel (Odense). Clockwise from top left: 1) our room; 2) swingset outside of the hotel; 3) Chris trimming nosehairs; 4) exterior of hotel.