Woke up late, and sore. Legs/back ached from walking. Showered. Semi-enjoyed free breakfast of dry cornflakes, bread, and blueberry tea. Eating too much bread.
Waited for bus that we feared would not arrive. It did. Got to Odense around 11 AM.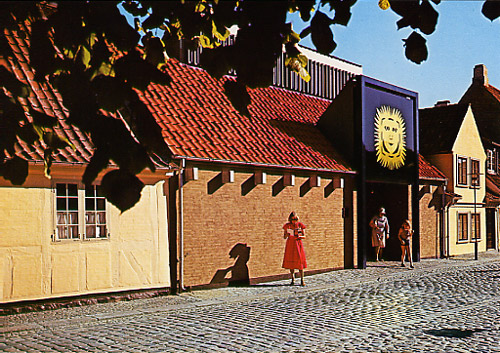 Hans Christian Andersen Museum, Odense. 1970s-era postcard. The girl in the background is doing the short-shorts + socks pulled up to knees thing.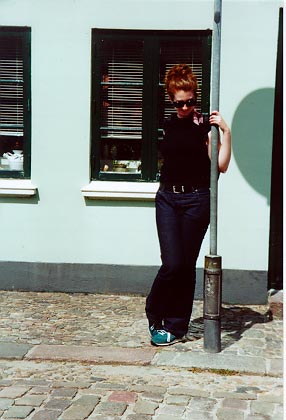 Hans Christian Andersen Street, Odense. This is somewhere outside the museum. It looks like a huge balloon is just out of the frame, heading straight for me. But it's really just the street sign, I think. [From Chris's camera.]
Visited Hans Christian Andersen museum. From what I could tell, he loved many women, but they never loved him back. And he was somewhat of a sponge, staying at friends' houses in favor of having his own for most of his adult life. Charles Dickens' kids complained about him to their dad. But Andersen, who wrote a book about how great his life was, probably realized no responsibilities equals few worries.
After that, we bought generic souvenirs for people and then ate lunch at a Subway-like place. Chicken and bacon baguette. Okay. A little too salty, as everything seems to be here.
Then we attempted to find the Photographic Art Museum and the Time Collection Museum. Went entirely the wrong way -- through a residential area. Had to backtrack. Bought razors in a grocery store on the way back. Chris bought opera mints. We called them opera mints, anyway -- they came in a classy little box.
We finally found the Time Collection place after a long, hot walk. It cost DK 15,00 with Student ID, which is about $1.80. It's a weird place, with rooms decorated to represent each decade from 1900s - 1970s. Actually, it is only two large rooms, split off into sections.
Apparently it's a Please Touch sort of place, but we weren't aware of that. We probably would have had more of a fun time of it if we had known we could sit on everything, try on the old clothes, and so on. Instead we looked with reverence at what seemed to be lived-in pieces of someone's home. Generally, I think the exhibit could have been much more informative, but its point seemed to be nostalgia.
We watched a lengthy slideshow featuring numerous pics of anonymous kids. Some were striking, but most were the sort you'd find in most families' old photo albums. At first we were just waiting to see what the point was, and it turned out there really wasn't one. Just more nostalgia, I suppose.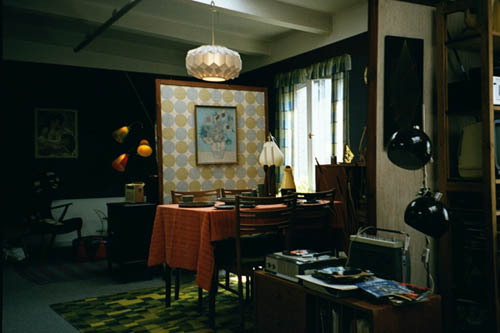 Time Collection, Odense. View of the 1960s room, with 1970s room in the foreground, 1950s room in the background.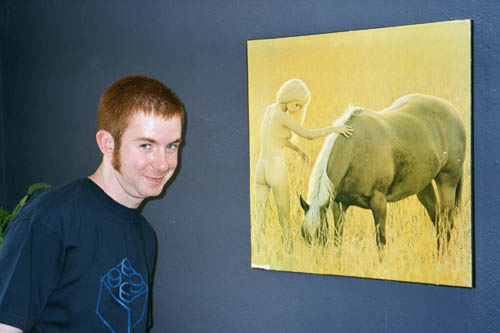 Time Collection, Odense. Chris's favorite part of the 1970s room.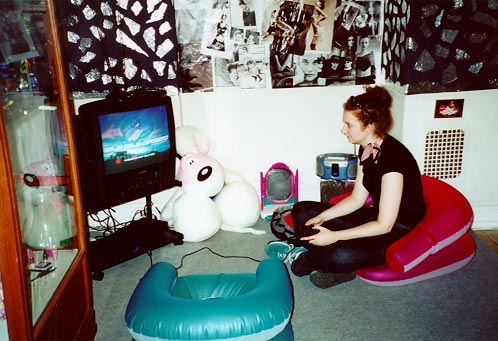 Time Collection. Playing the Sony Playstation Sampler in the 1980s-to-Now Kid's Room. [From Chris's camera.]
Finally, we sat on inflatable furniture and played video games in what seemed to be the 1980s/1990s Kid's Corner. Specifically, we played a racing game called Real, Real Wild from a Sony Playstation Sampler. It felt like a fix of normality. It was in English.
Afterwards, we bitched about what to do because everything was closed and it was only 5:30. We visited a couple of bookstores. One had many good books in English with nice, modern cover designs. I wanted to buy a Truman Capote work, but decided not to weigh myself down with it.
Saw many well-dressed and fit and mostly blonde youth around. Visited some clothing stores, but do not want to spend money on clothes right now. Would like to develop better style once back in the States, but cannot really afford it with job potentially in jeopardy.
Ate dinner at BK, awful Crispy Chicken sandwich overloaded with mayo and grease.
Then back to hotel. Planned tomorrow's activities. Fairly short and somewhat tiresome day, overall.